Always and forever praise the
C
hanel
, Learn and examine whats in tune as feautured on the runway
,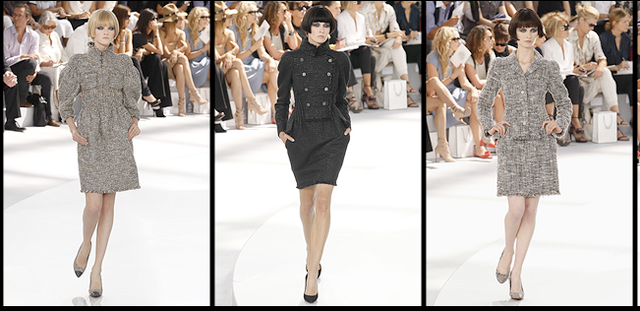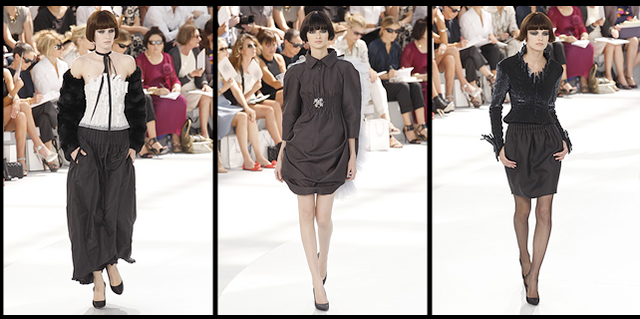 What im seeing:
Wool coats

that are the le

ngth of your dress

, a little bit less, or even more. These coats aren't exactly solid, though provide a

zap of a pattern

, yet not bright or hypnotizing...just right.
Next are wool dresses; Its not really ideal to wear a wool dress, though its

the shape

were looking at.

The Millitary uniform inspired collar

with a relaxed or

"puffed sleeve."

P.S Pockets are fun. : )

On the

third row

starting from

number 1

, its the

draped relaxed

boho look made couture. In love. But what caught my attention most was the elastic hold at the end leaved a

feminine touch

.

2nd look

on the

third row:

MY FAVORITE!

i love fur, (ofcourse faux fur) but Chanel would never be that weak to be faux. I love how they added the fur to the

le

ngthened military style jacket

. Yes, the look has been issued before, but this time it was played with a cool patterned fur, and a royal blue jacket...YUMM. 
Look

#4

on the

third row

: Attack of the

two tiered dress

, this dress exposes two layers, its been on all the run ways, i think we finally

take a shot at it

.
Ofcourse the fourth row takes away the show with the

grunge made couture draping

, makes a

dramatic twist

to everything. Not to mention the girly

lace sets the perfect tone...
I could write about

Chanel

all day... but ill leave it up to you to

be inspired

...