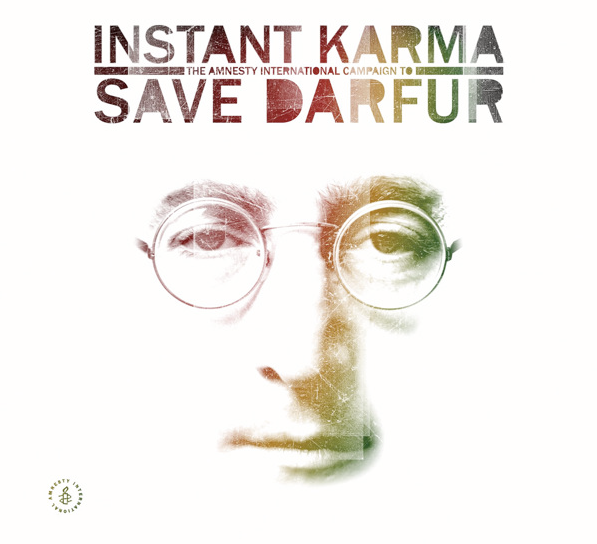 "Organized by Amnesty International after receiving the rights to John Lennon's songs from Yoko Ono, 2007's INSTANT KARMA collection benefits the organization's campaign to end the genocide in Darfur, Sudan, while also serving as a tribute to the late Beatle. Presenting an impressively eclectic array of artists that ranges from Christina Aguilera to Big & Rich to the Postal Service, the compilation is a truly varied affair. Not surprisingly, however, many of the finest tracks come from pop/rock acts directly inspired by Lennon, including R.E.M., reuniting with original drummer Bill Berry for a beautifully drowsy version of "#9 Dream," and Ben Harper, who contributes a delicate take on "Beautiful Boy." Providing the most direct link to Lennon's legacy, though, are Jakob Dylan (son of Bob) and Dhani Harrison (son of George), who offer up a lively rendition of "Gimme Some Truth" that reminds listeners of the legendary performer's socially conscious spirit.Rolling Stone (p.71) - 3 stars out of 5 -- "Jackson Browne's tender want in 'Oh My Love' is the high point: one great songwriter deep inside the power and yearning of another."
THE INVISIBLE CHILDREN ORGANIZATION
This is an organization set up after three men in thier early twenties ventured out to africa to discover a story they would never forget. When arriving they found the

"invisible children"

these kids walk miles every night in Uganda, Africa just to have somewhere safe to sleep from being abducted and forced to kill in the rebels army. The video created from the men is life changing. The organization has created a website:
Invisiblechildren.com
Just check it out, you will be inspired.